When it comes to using drones for mapping, having a good mission planning app can make all the difference in the world. In the past, we've used apps like DroneDeploy, Pix4d Capture, Map Pilot and the DJIGo4. But with the release of the DJI Mini and Air series, as well as the fact that the Mavic 3 Pro does not have an available software development kit and so can't be used for mapping missions, we have been looking for other options. DroneLink offers better compatibility with drones like the DJI Mini and Air series, but how well does it measure up in terms of usability for drone mapping?
For this review we were using an Elite subscription plan for Dronelink. Note that at least the Premium subscription plan is required for the 'map' function. You can check out the pricing plans here.
DroneLink vs other mapping apps: What's the difference?
The basic mission planning in DroneLink is fairly similar to many other mission planning apps. The most significant difference is something you won't notice from the app interface: while most drone-mapping apps use the waypoints approach as their autopilot for the drone,  Dronelink uses a virtual sticks approach. If you're curious about what that means in technical terms, you can check out this forum post but for the purpose of drone mapping, what really matters about it is that it's compatible with the Mavic Mini and Air series.
Planning a drone mapping mission with Dronelink
The basic mapping mission planning is similar to all the other apps and there are some intuitive buttons to guide you to create a plan. However, once a plan is created, figuring out how to navigate the more detailed settings of the app, such as selecting camera/drone, modifying flight altitude, or changing image overlap and sidelap) can be tricky for those new to the app. It takes a little while to learn where all the buttons are. But once you get used to it you can plan a mapping mission in no time.
Check out the video for a guide by GeoNadir's Data Scientist, Joan Li, on how to use DroneLink.
Range of supported devices
The range of devices DroneLink supports, especially the DJI Mini and Air series, makes it a winner in our eyes!
Many people that focus on professional surveying and mapping don't think that the DJI Mini or Air series deserve as much attention as the other higher spec drones. Yet for many hobbyists, citizen scientists, or educators these two drones are the go to due to their price and weight. DroneLink doesn't just support the Mini and Air,  you can find a full list of the devices the app supports here.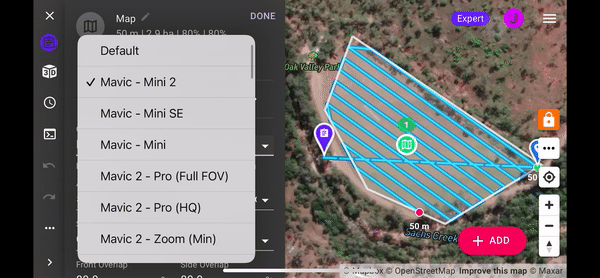 If you're coding savvy, check out the DroneLink GitHub for some of the other suported devices DroneLink has in development.
Previews of planned mapping missions
DroneLink can also generate previews of your planned mapping missions so you can understand what the drone will be doing. This is helpful if you find some drone terms confusing. For example, you might not be sure what gimbal pitch 90 degree means, but by looking at how the drone flies virtually, you don't have to guess. You even get a simulated camera view as well!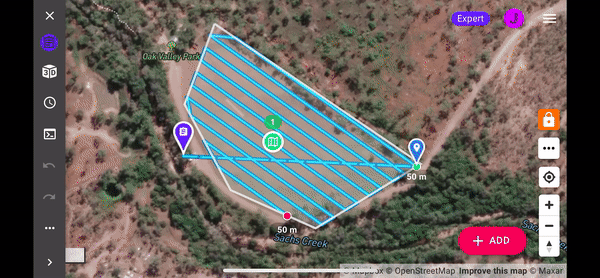 Active support community
The support team and community of Dronelink is also very active and helpful. When I had an issue, it usually took less than 24 hours to hear back from very experienced pilots.
Where we think Dronelink could be improved
Complicated for beginners
DroneLink has an overwhelming amount of options if you're a beginner. The coding and repository structure may be confusing for people who are first introduced to drone mapping. In one mapping mission, you can switch between mapping with waypoints, flying an orbit, taking a 360 and more. You can even re-use different components of a mapping mission, or share them with other DroneLink users. This can be quite overwhelming at the first glance.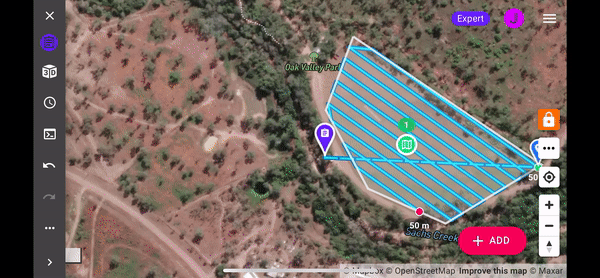 Just look at how many things you can modify! When I first tried to navigate around the app, there were always unwanted windows popping up. I just didn't know where to click. And I'm still mainly just keeping the majority of the settings as default for most of my maps.
Needs internet connection for adjusting missions
Another major drawback is that users can only plan a mission while the device has an internet connection. If you do the majority of your flying in places with good mobile coverage, this likely won't be a problem. But for those who enjoy flying in remote areas with limited or no mobile coverage, this can cause some issues.
If you want to conduct mapping missions in an area with no internet you must pre-plan and then save the mission in offline mode. This includes knowing where your take-off spot is going to be for the mission. You will also want to cache the base map. That way you can compare the mission plan to where you are located on the ground more easily.
If your site has no internet, you can't adjust your mission once you're there, for example, to change your take-off spot. You also can't plan a new mission for that 'oh so perfect' spot you just found.
Some other considerations when using Dronelink
Fully closing other mapping apps to prevent issues
You'll need to remember to quit the DJI app (DJI Go, DJI Flight, etc) before using DroneLink. Make sure you actually quit the app, not just leave it running in the background. Having other mapping apps active can be an issue and sometimes cause unwanted errors.
Would we recommend DroneLink?
In summary, from our first experience with Dronelink, it's smooth, but a bit overwhelming in terms of modification options. It is definitely one of the more versatile autopilot apps out there in the market. But it also has some unique features that require some time and effort to get used to.
You can find out more information about Dronelink here. If you're looking for other drone mapping and support apps, you can check out this article.
We would love to hear your experiences using Dronelink, and once you have completed a mapping mission, upload your data to GeoNadir and we will put it on our global map!
Note: We received a free Elite licence to allow us to test and review Dronelink. We were not paid and did not receive any other benefits to write this review. We just genuinely like products that work well, and give users options to conduct drone mapping missions!