Learn how to pack the bare minimum when taking your drone surveying equipment on a family holiday.
It's school holidays in Queensland and what better time to get out and about camping! It might be the middle of winter for most of Australia, but that seasonal description doesn't really fit in the tropical north. So it makes perfect sense to be on the beach in July – in fact, it's the best time of the year as we don't have to worry about the 'stingers' (aka really nasty jellyfish)!
With a vision to create the most detailed map of the planet ever possible using crowd-sourced drone imagery (see GeoNadir), I can hardly miss an opportunity to map a bit of Queensland's coastline as I travel. I like to do a tech de-tox while on holidays, so it's important to me that I can do the mapping as quickly and easily as possible so it doesn't feel like I'm working when I should be holidaying 🙂 For that reason, I've kept simplicity and ease of use in mind as I write this.
Finding a good drone mapping site, drone surveying equipment,
This school holidays we visited Flying Fish Point and Etty Bay on Djirbalngan Land. These were both great sites to fly for the following reasons:
Large areas of open space. This is important as I don't want to (and am not allowed to) fly over the top of people. Some parts of Etty Bay can get quite busy so I had to avoid those areas.
Not in a National Park or too close to an airport. We planned our trip at short notice, and I wanted to make sure that I was legally allowed to fly there without spending time getting permits. The coastal strip in this area is adjacent to National Parks, but not within one so I didn't need a permit.
They're in a beautiful part of the world! This is a good opportunity to take the time to appreciate the land and sea country for all that she provides.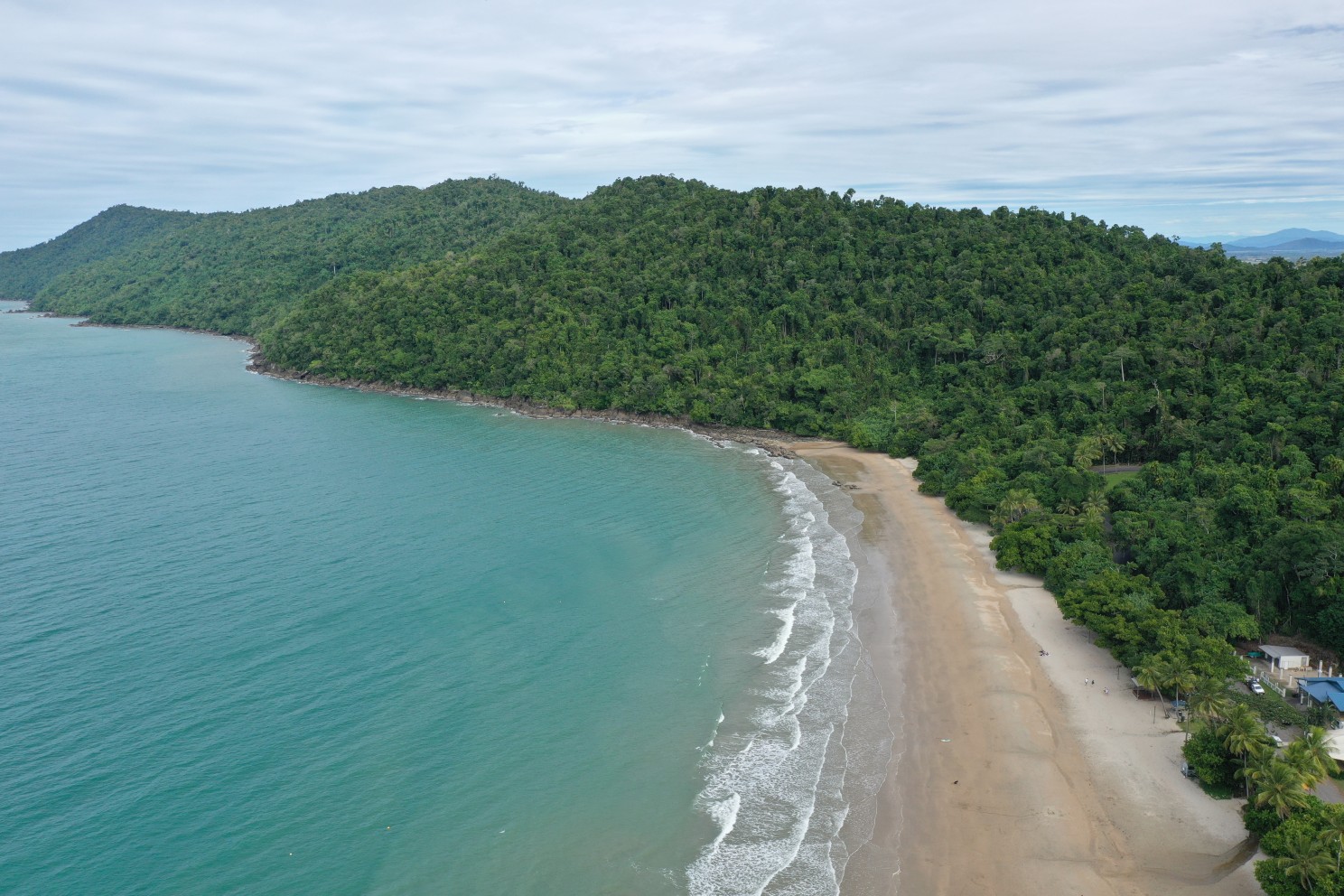 What I take with me
This is not a work trip, and I don't take all the bells and whistles with me on a family camping trip when space is already at a premium. So here's my key basics:
My Mavic 2 Pro. I prefer my Phantom 4 Pro for mapping to be honest, but the Mavic is way more compact so it's really convenient. This includes the controller, spare props etc. Whatever fits into the little carry bag, no fancy pelican case or anything.
Spare batteries – I usually travel with four batteries
LiPo battery bag – keeps my spare batteries protected and hopefully contains a fire if they were to explode (!!!)
A landing mat. Nothing fancy, I have three laminate flooring mats that I use. Super portable and they were just off cuts from a house build so didn't cost me anything. I have used a kitchen chopping board on previous trips if that's the best I could find! It's really important though, as the mat protects the drone from dust and sand kicking up into the motors.
Charger cable including the car charger (though I confess I've never actually used the car charger!)
Multi-charger – this lets me charge all four batteries sequentially without having to swap them over manually.
Spare SD cards – I change the SD card after every flight just in case I happen to lose the drone, I haven't lost the previous flights' data! This is particularly important if I don't have the opportunity to download and back up the data as I go. I did have my laptop with me this trip though as I was still partly working.
What I don't take with me 
As I mentioned above, I'm aiming for convenience and compact travel. The following list is for things that I would take on a work drone mapping mission, but they don't make the cut for my holiday.
Ground control points – I sacrifice the positional accuracy of my mapping
Additional GNSS (GPS, GLONASS, RTK) – as above, I'll make do with what co-ordinates come off the drone
iPad – while I like mapping with a larger screen, for my holiday I just use my phone. One less thing to worry about.
Other in-situ survey tools – often on work trips I may take transect tapes, quadrats, etc. for putting in place calibration and validation. None of those things make the cut on my holiday mapping.
Redundancy – aside from some small things like spare propellers and SD cards that don't take up much space. This is in stark contrast to my last field trip for example where we had three Phantoms and a Mavic as well as two spare iPads, as well as their cases and accessories – just in case. When you're in a remote area and the drone is mission critical, we don't take chances! But on a holiday droning is not the priority for me.
Pelican case or heavy duty tub – on a work trip my equipment can get knocked about a bit moving between boats etc. so I usually pack it all in water proof tubs or cases for extra protection.
In the video below, you can see how much more complicated my equipment list is when I'm getting ready to head out for remote fieldwork!
Other things to make my life easy
Probably one of the biggest things that I've realised I need to do when drone mapping in remote locations is to cache the background imagery in the drone mapping apps while still in wifi range. It's really hard to plan a mapping mission with no basemap!
To cache the imagery, all you need to do is to go into your chosen mission planning app (e.g. DJI GS Pro, Pix4D Capture, or Drone Deploy), and zoom and pan around the area where you think that you might fly. Even better if you put in a draft mission while you're at it. Wait until the imagery tiles load properly and then you'll be good to go once you're out of WIFI range. You can always double check that you've done this properly by putting your device into airplane mode and re-opening the app.
Mapping data back up
I have to admit that I'm quite obsessive about data back ups, even when on a camping trip! On this particular trip I had to take my laptop for other work, so at the end of the day of droning, I transferred the data from the SD cards to my laptop back at the camp ground. I then uploaded directly to GeoNadir via my phone hotspot, which meant that my data were safely in two locations before I formatted the SD card for re-use.
You can check out the three datasets I captured via these links below. I had to fly Etty Bay in two separate missions to avoid the middle part of the beach where most of the people where hanging out 🙂
For reference, Flying Fish Point is the largest of the three datasets with 280 individual photos, each with a file size of about 8MB. It took just under 30 minute to upload to GeoNadir via my phone hotspot. We are continually working to make this process faster as well, but it was fine for me as it just ticked along in the background on my browser while I finished other emails and bits and pieces.
Where to from here?
To create the most detailed map of the planet ever possible, I need to fill many more of Mother Earth's photo albums. So that's a lot of camping trips for me! How about you? Would you like to help me fill some albums?
We have the opportunity to take a snapshot in space and time of our local ecosystems. Together we can document how the world is here and now. Then hopefully we can do a better job of protecting her for future generations to enjoy.
If you'd like to join my mapping mission, you can find out more here. I'd love to have you be a part of it!