Sea Cucumbers have threatened species and it's critical we create the largest population map of their habitats.
The first time I flew my drone on Heron Reef about five years ago I was blown away by what I would now be able to map and monitor. I was looking for live coral and I certainly found that. But I also discovered other parts of the reef I hadn't previously really considered.
I quickly realised that my data held far more information than I would ever be able to extract. But I didn't want it to go to waste! I posted this image on Twitter asking if anyone was interested in sea cucumbers, and would they like to collaborate?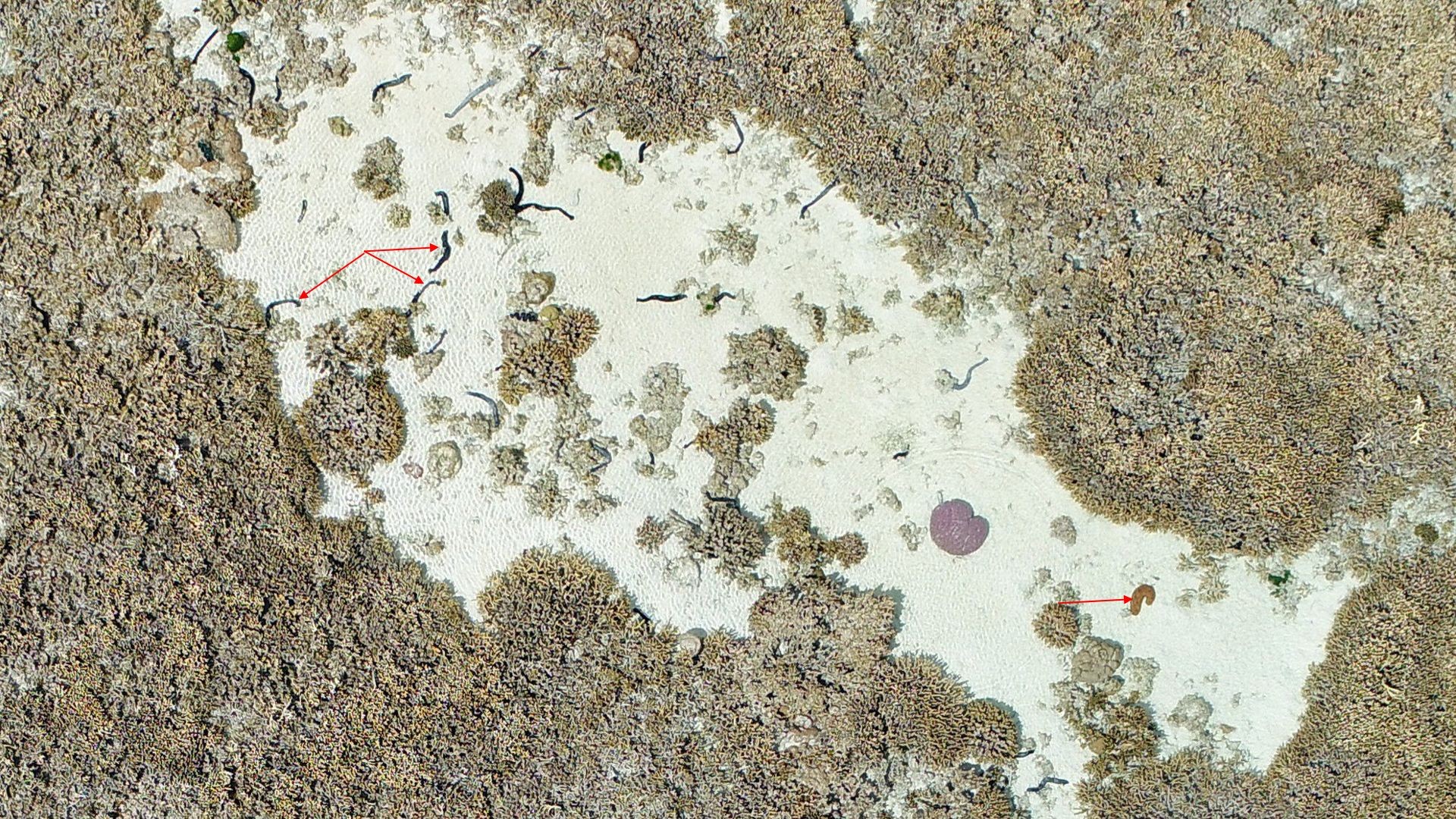 That's when I met Dr Vincent Raoult from the University of Newcastle and we started talking about counting the animals and looking at their spatial and temporal distribution across the reef. We worked together with Dr Stephanie Duce and students from the Advanced GIS class at James Cook University to make maps of the area. To our knowledge it was the first time anyone had undertaken such a comprehensive survey of sea cucumber distribution!
We took our work a step further, considering the role that sea cucumbers play in reef ecosystems. They act like a garden worm, turning over and 'refreshing' reef sediments as they eat the sand and poop it back out – this is called bioturbation. We measured the amount of poop contributed by one sea cucumber and scaled it to an entire reef estimate using drone and satellite data. This helped us estimate that sea cucumber poop on Heron Reef over the course of the year has the equivalent mass of about five eiffel towers (Vincent is French :))! You can read more about that work here.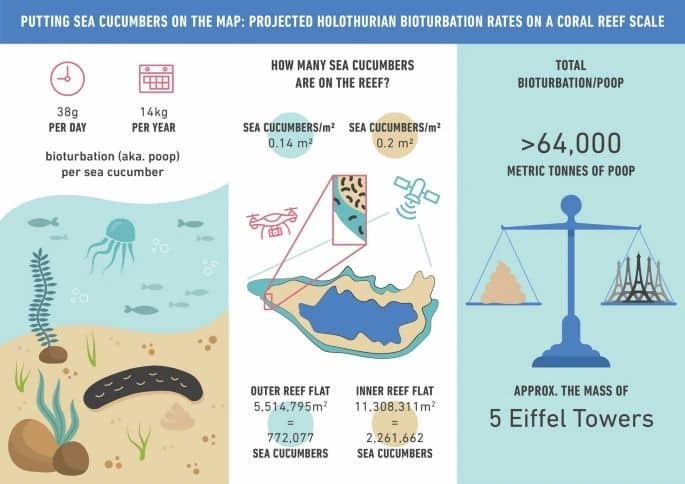 But as you might imagine, when we are looking at thousands of sea cucumbers, this becomes quite a significant task to do womanually. Enter talented masters student and GeoNadir data scientist Joan Li and her project to use machine learning to do the hard work! Now we're in business!
So we know that we see sea cucumbers in drone data, and we know that we can count them using machine learning. What's next? World domination of course 🙂
We want to try to count sea cucumbers and map their habitats globally. Sea cucumbers are a valuable fisheries species but we know surprisingly little about them. If we don't baseline how many we have and where they live, how will we ever know if they are a species in peril?
I know that there are many tens if not hundreds of thousands of people flying drones around the world. What if every person flew to find our sea cucumber friends? This is actually something that we CAN all do together. And you don't need skills in data processing or anything – I'll take care of all the sciencey stuff. I just need drone pilots to capture the photos in the first place.
If you'd like to join my global mission to save the sea cucumber, I'd love to have you in the sky with me! All you need to do is capture drone mapping data from 20m altitude over reef and coastal ecosystems and upload to GeoNadir. And of course, please feel free to share!