At GeoNadir, we are heavy tech users. Of course there's the drones, but we can't forget the laptops, desktops, servers, storage devices, cloud systems etc. that underpin our daily operations. It's therefore really important to us to connect with other similar businesses as we grow, and one of the reasons why I joined the Dell Women's Entrepreneur Network (DWEN).
The DWEN global networking platform supports thousands of women around the world like me in tech businesses. They also hold an annual competition – the DWEN Dream Tech Contest. That's when GeoNadir first got involved.
DWEN competition success!
The competition was pretty simple – nothing like the long and involved government grant applications I'm used to!
Here's our competition entry video – we won 1st prize in Australia!
Following our success, the Dell Technologies team asked if we would like to be involved in the Businesses We Love series. As a start-up company, visibility is absolutely critical for us so we jumped right in.
Dell-icious advertising
Dell wanted to create a 90 second video that they could also reduce to shorter snippets for various platforms. Shooting on site in the northern beaches of Cairns, Far North Queensland was important, but not without challenges. We needed low tide, low wind, no rain. And the ideal weather needed to align with the availability of the Channel 7 crew coming up for the shoot.
Three out of four isn't too bad! Although it poured with rain most of the day, we managed to find a small window of opportunity to film at the spectacular Kewarra Beach.
If you watched my video above, you might see that I don't fuss much with hair or makeup. Paul isn't really in the habit of getting dolled up either! But Natalia was on hand all day making sure we were camera ready. Honestly after a day of that, I give my full respect to TV and movie stars!
We shot the office-like scenes in video at the James Cook University Nguma-bada campus Ideas Lab. As an academic at JCU I have the privilege of working in this pretty cool building! It's a really great space designed for local entrepreneurs and students to gather and collaborate as well.
In the final cut, you'll also see some of my drone footage of various reefs on the Great Barrier Reef, as well as that captured by the incredibly talented Woody Spark from Grumpy Turtle Creative. He also took the incredible underwater footage on our recent trip with the Citizens of the Great Barrier Reef for the Great Reef Census.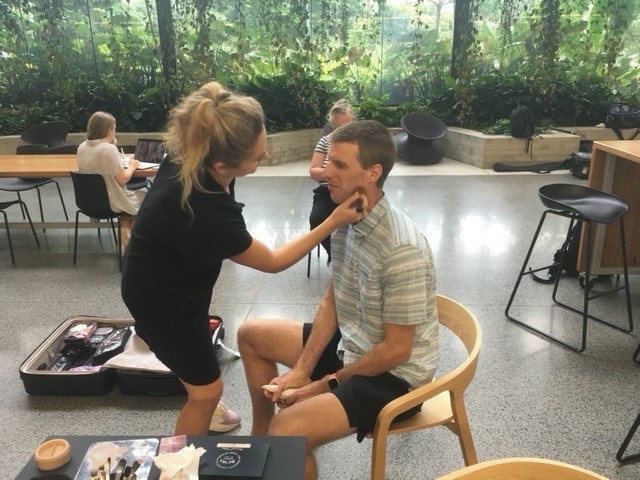 Let us know what you think of the final product created by Dell and Channel 7 below!