At GeoNadir, we want to see drone mapping data used to its full potential. Here you will find information about our drone data management software and more.
As drone technology evolves, the fields and industries where drone mapping data can provide valuable insights continues to grow. But as we collectively gather more and more drone mapping data, managing it all can be challenging. At GeoNadir, we want to see drone mapping data used to its full potential. To do this, we're dedicated to helping drone pilots effectively store, manage and share their mapping data. This is now easier than ever on the GeoNadir platform thanks to My Geo and FAIR Geo.
Drone Data Management: Storing and managing your drone data with My Geo
My Geo is a dedicated space to upload and manage your drone mapping data, all in one convenient location.
Starting is as easy as creating a profile and uploading some datasets. Everything you've uploaded will appear on the My Geo world map, so you can sort and visualise your drone mapping data by location.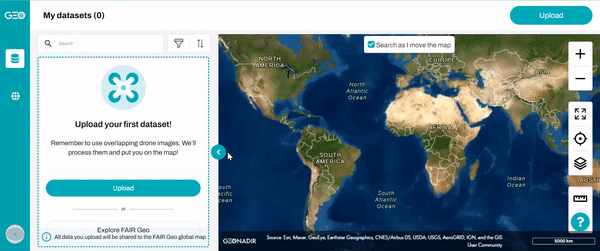 Not sure what kind of information to include when you upload your dataset? Read here for some suggestions on metadata to include with your uploads!
Plus, you can also search for specific datasets that you've uploaded using keywords from the title and tags, sorting by capture and upload date, and filtering based on different categories. No more slogging through hundreds of folders on your hard drive to find that one dataset!
Not only is data storage completely free, the platform also automatically processes your raw drone mapping images into an orthomosaic!
Sharing data with FAIR Geo
Where My Geo is designed for managing your personal drone data, FAIR Geo makes it easier to share your data with others. Every dataset users upload to the platform is automatically visible in FAIR Geo. That means, sharing a dataset with anyone is as simple as copying and pasting a link! 
It also means that you can easily find and learn from the diversity of datasets that other users have uploaded.
The name FAIR Geo comes from the FAIR data sharing principles that underpin the GeoNadir platform. Despite drone mapping happening all over the world, so many of these drone mapping datasets never make it past the hard drive where they are stored.
The result is that vast quantities of valuable data are hidden away, lost and inaccessible on dusty hard drives.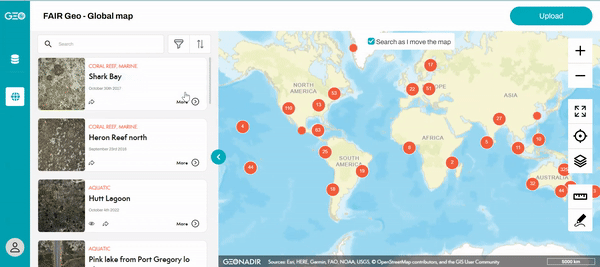 By uploading your data to GeoNadir, you're helping make your datasets Findable, Accessible, Interoperable and Reusable (FAIR). On GeoNadir, your datasets can be used to their full potential and help others learn about our environment.
Start uploading!
So what are you waiting for? Check out the GeoNadir platform and discover the easy way to mange and share your drone data!