In 2022 we were hugely fortunate to receive some funding through the Australian Government's Boosting Female Founders Initiative that supercharged our GeoNadir development roadmap. Here's our pick of the top ten GeoNadir enhancements that we've made to the user interface and user experience. We hope you love them as much as we do!
1. Create layers
We all know that drone data provides more than just pretty pictures. But to help communicate our messages, we often need to be able to create annotations and draw points, lines, and polygons over the features in our images. Allowing users to create their own layers was our first major feature release for 2022. UPDATE: This feature has been improved again in 2023 with the release of 'My projects'. The video below shows you how easy it is!
2. Support for mass data uploads
Got a ton of data? We hear you! You can now upload folders (including their sub folders!) of data rather than dealing with just one dataset at a time. It's pretty much set and forget through our new uploading interface while you let us do the work for you. You can even drag and drop your files or folders for a super quick upload experience. We also implemented automatic dataset naming – so if you upload folders, your datasets will be named as per the folder name, but if you upload sets of images, the dataset will be named by the location and date/time stamp of the first photo in that dataset. We use that same dataset naming protocol for our drone data and find it super helpful in data management.
3. Ability to view your own vs. global data
We love that GeoNadir is a place for drone operators around the world to share their drone mapping data. But we also understand that sometimes you just want to look at your own data in isolation from everyone else's. So we introduced My Geo and FAIR Geo. View and explore your own data on My Geo, and then flick to FAIR Geo to see the findable, accessible, interoperable, and reusable data of our global community.
4. Share your public profile
We know that you've got lots of drone data to share – that's why you've come to us! Now we've made it easier to point your colleagues to your datasets through your shareable public profile. They'll be able to see all the hard work you've been doing to contribute to the most detailed map of the planet.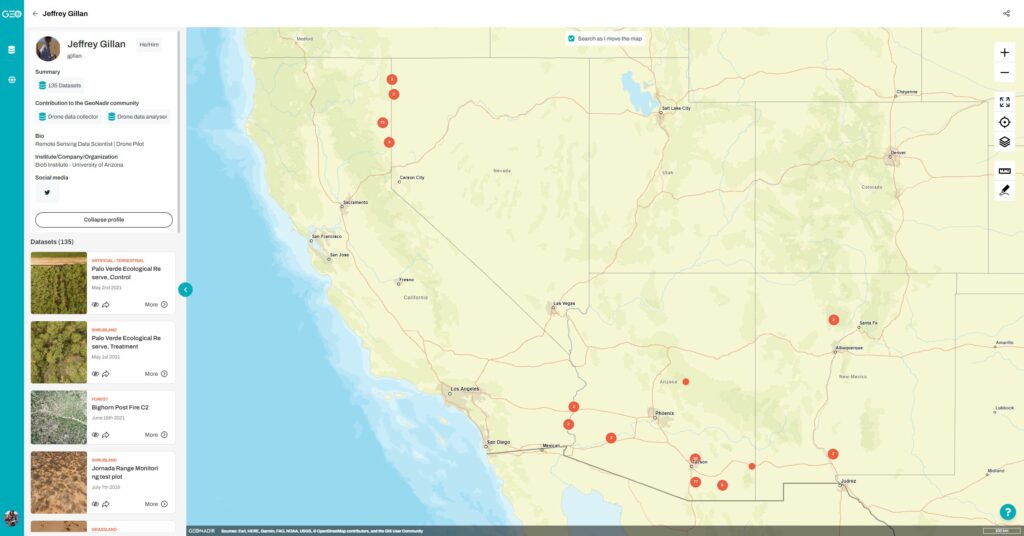 5. Enhanced metadata
We all love to hate metadata! But we absolutely know how important it is in understanding the datasets we are using. In this GeoNadir enhancement we completely reimagined the way we display datasets on the platform, and have included additional information such as the area covered, ground sample distance (GSD – cm), as well as various other technical details related to the date and time of capture as well as camera/drone specifications.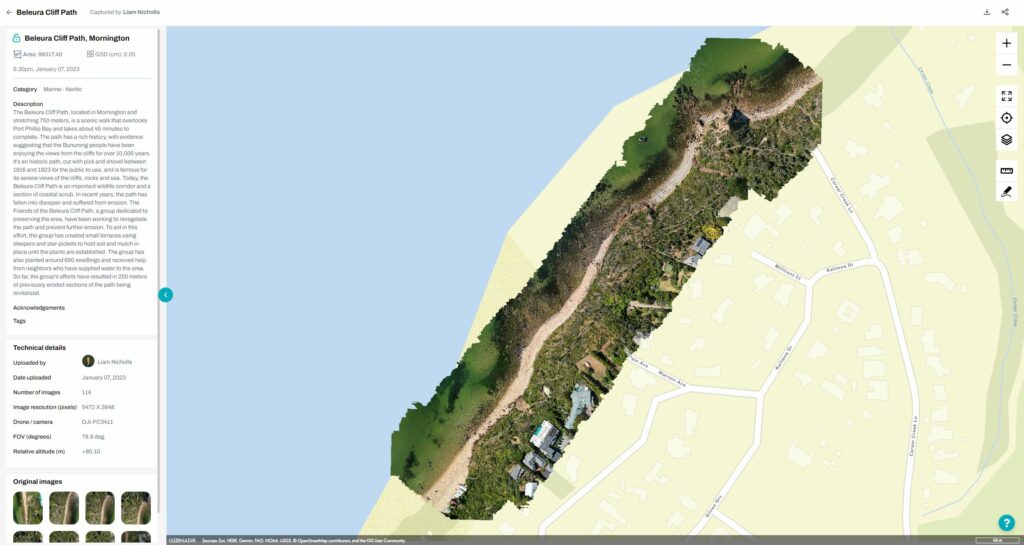 6. Automatic category assignment
Rather than having users select from a somewhat arbitrary listing of landcover/landuse categories to which their data are associated, we've adopted the International Union for Conservation of Nature (IUCN) habitats classifications scheme. Now, when you upload your data, the location of your imagery will be assessed against a global map of these categories and auto-assigned to the most appropriate one. It's one less thing for you to do (score!), and removes subjectivity across the platform. This makes it a lot easier to search for and discover data as well. Of course you can still add extra information in the 'description' and 'tag' fields.
7. Enhanced zoom tools
Tired of scrolling your mouse to zoom? With a click of a button you can now zoom directly to your location, or out to the global extent.
8. Make measurements
Just below our zooming tools you'll find a ruler that will allow you to make distance and area measurements. It's super easy to quickly assess the area of vegetation clearing, fire scars, flooding or wherever your work takes you.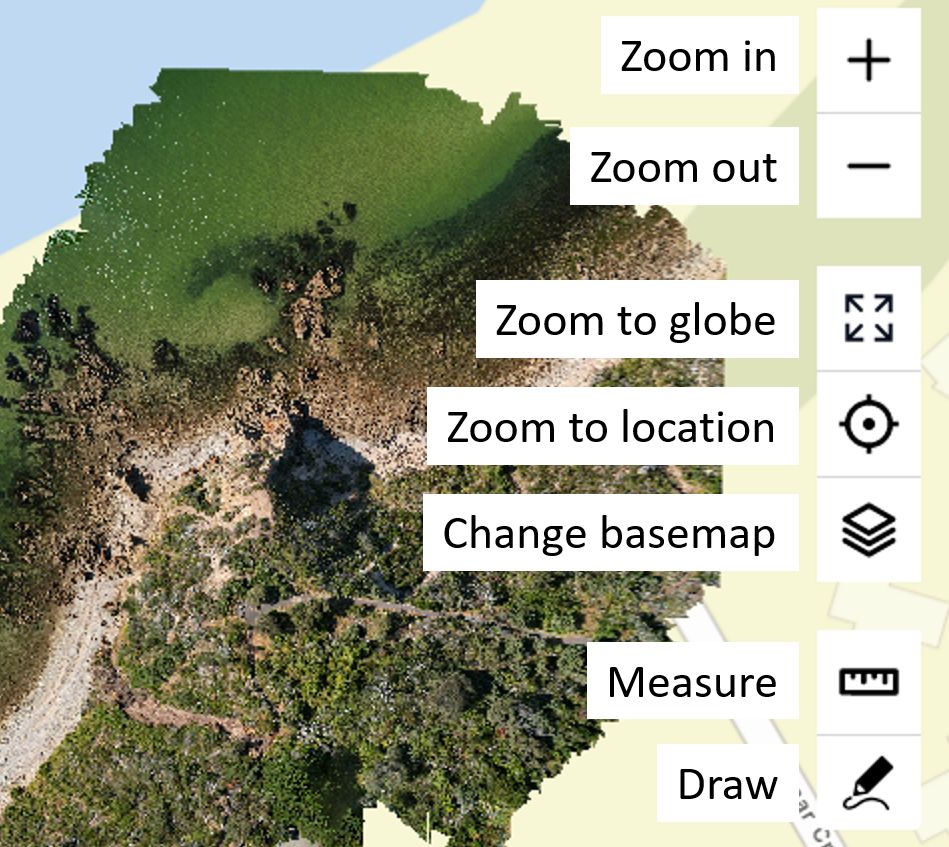 9. Sort results
As we grow to host more and more datasets, the listing in the table of contents can be rather long! Now you can quickly sort your results by date of capture or upload to find the dataset you need.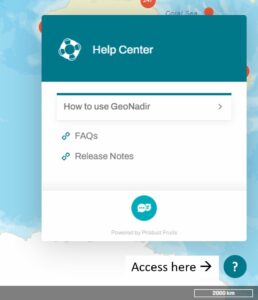 10. Integrated knowledge base
We like to think that our GeoNadir platform is as intuitive as possible, but of course you may still have questions! We've integrated a comprehensive and searchable knowledge base including all release notes into the platform. 
We hope you'll agree that our drone data platform is coming along really well and starting to show lots of exciting features. We'd really love to help you manage and share your data, and to explore the collections of others all with the view to helping each other monitor and protect at-risk ecosystems.
Last but most definitely not least. As hard as we have worked to bring new features and enhancements to the GeoNadir platform, my personal highlight was collaborating with the incredible team at Green Fox Studio to bring our story to life in animation. For all the feels, please watch the video below, and read the backstory here.
To jump right into the platform explore our GeoNadir enhancements, click here.