We launched our GeoNadir FAIR drone data platform in March 2021 and have been rapidly developing features as we go. With an agile development mentality, we're constantly pushing updates, bug fixes, and new features to make sure our users get the best experience possible with sharing and exploring drone data around the world. So if you haven't jumped on the platform in a little while, you might have missed some of the fruits of our labour.
Here's just ten (of our many!) super cool things we wanted to share with you:
1. Free orthomosaicking feature!
Did you know that if you upload overlapping, nadir (top down), geotagged drone data to GeoNadir, we'll orthomosaic it for you for free? For image collections that have been suitably collected, all you need to do is open the image collection and select the 'map' tab to see the orthomosaic over that area. This was one of the features we were most excited to release in 2021.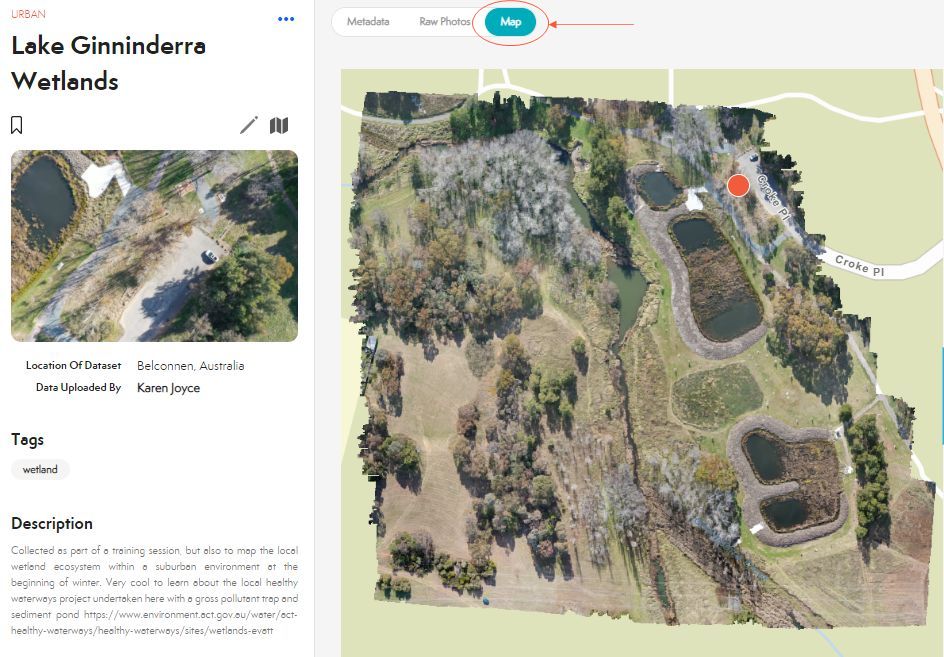 You can also view more than one orthomosaic at once! From the main platform viewing window, you'll see a table of contents of image collections. For collections that have an orthomosaic available, you'll see a little 'eye' icon on their cards. Use the eye icon to toggle on and off the orthomosaics in your viewing area. Just remember that if you toggle on too many, it will slow down the loading speed on the platform.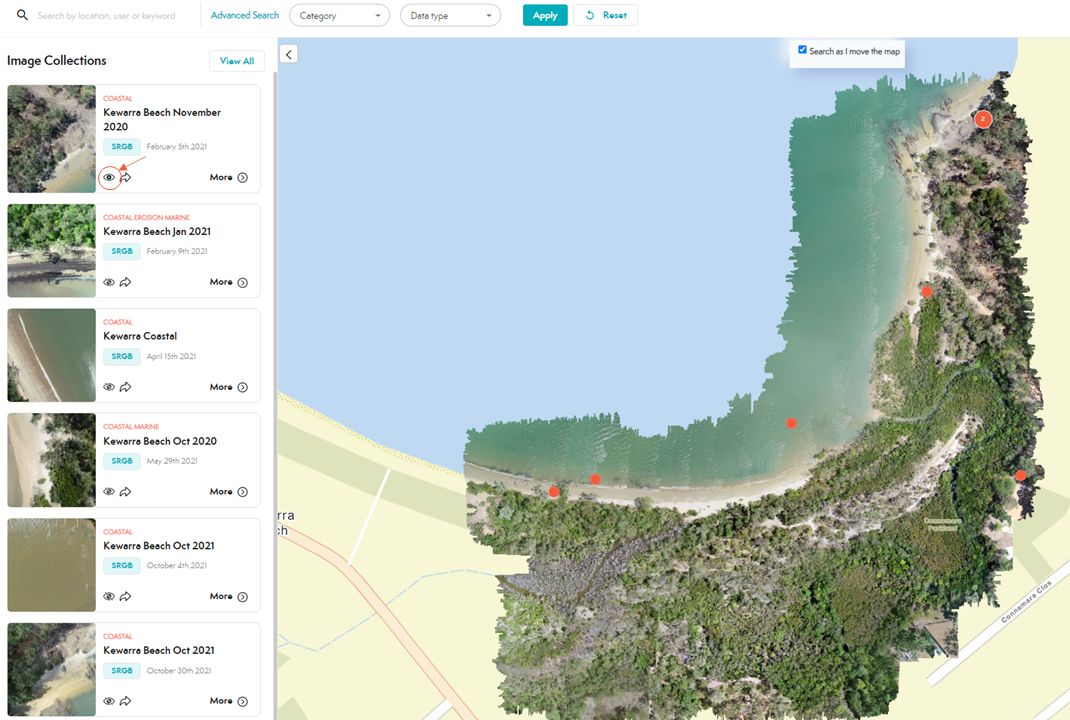 3. Search by orthomosaics
Want a quick and easy way to find out which image collections have associated orthomosaics? Use the Advanced Search function under 'data type' to select 'Orthomosaic' and apply! We're working on incorporating other data types like thermal and multispectral so stay tuned for this function to grow 🙂

If you appreciate curated content like playlists on YouTube or Spotify, then this feature is for you! You can save any number of image collections of your choice into a showcase to check out later or share with colleagues. Hover over any image collection card until you see the bookmark symbol – click that and you'll be on your way! For example, I was part of a field survey team with Citizen Science GIS and we captured a lot of data for their incredible OpenReef project to map the islands of the Belize Barrier Reef. You can check out all the image collections in that showcase here.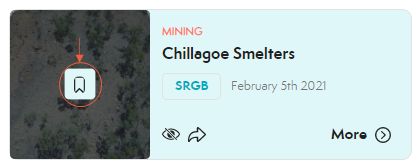 5. Search as I move the map
As you navigate around our global map view, you might notice that the image collection table of contents is constantly updating to show the cards that correspond to the zoom level in the map – just like in AirBNB for example. Sometimes this means that the loading speed can slow down. So if you'd like to speed up your experience in exploring data, tick off the default 'search as I move the map'. You can always tick it back on to update the image collection cards when you reach the zoom level in which you are interested.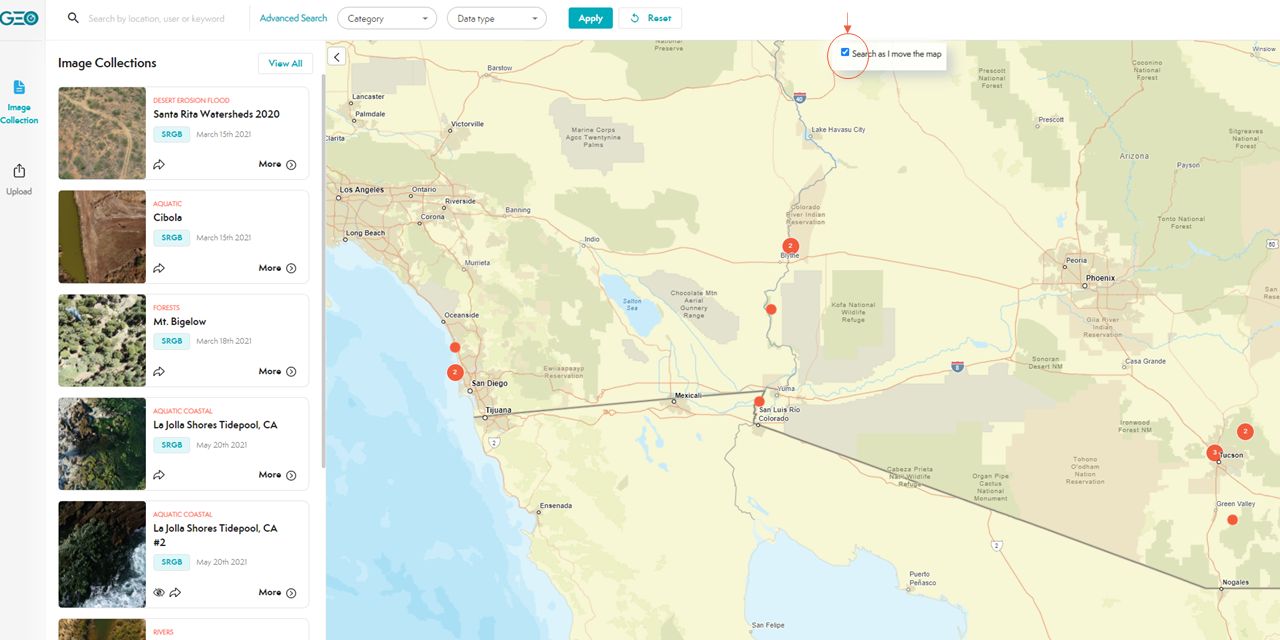 Are you curious to see all the new collections that have been uploaded since you last visited the GeoNadir platform? Why not sort the collections by the date uploaded or date captured!

7. Advanced search features
Do you have an interest in exploring data from a specific ecosystem category such as agriculture, coral reefs, or weeds? Try our advanced search features to discover image collections from any or many of a range of different categories.

When users upload an image collection, they have the opportunity to not only select the general category of their collection, but also a number of tags for features within the imagery (e.g. solar panel). Try our basic search function on GeoNadir to discover image collections that contain features in which you're interested. This feature will get better over time as more users interact with the tag functions.

9. Edit your image collections
What if you upload an image collection and forget to add tags or a description, or simply want to update these components? Too easy. Just open the collection and click on the editing pencil. Make sure that you're logged in first though, or it won't work (and of course you can't edit someone else's collection). Notice that you can also add a collection to a showcase at this point too!

10. Edit your user profile
If you want to update your details or even sign up for a virtual coffee to connect with us, open your profile information and simply click the 'edit your profile' button. Did you see that your image collections and showcases are also stored under your profile page? Super easy to access, right?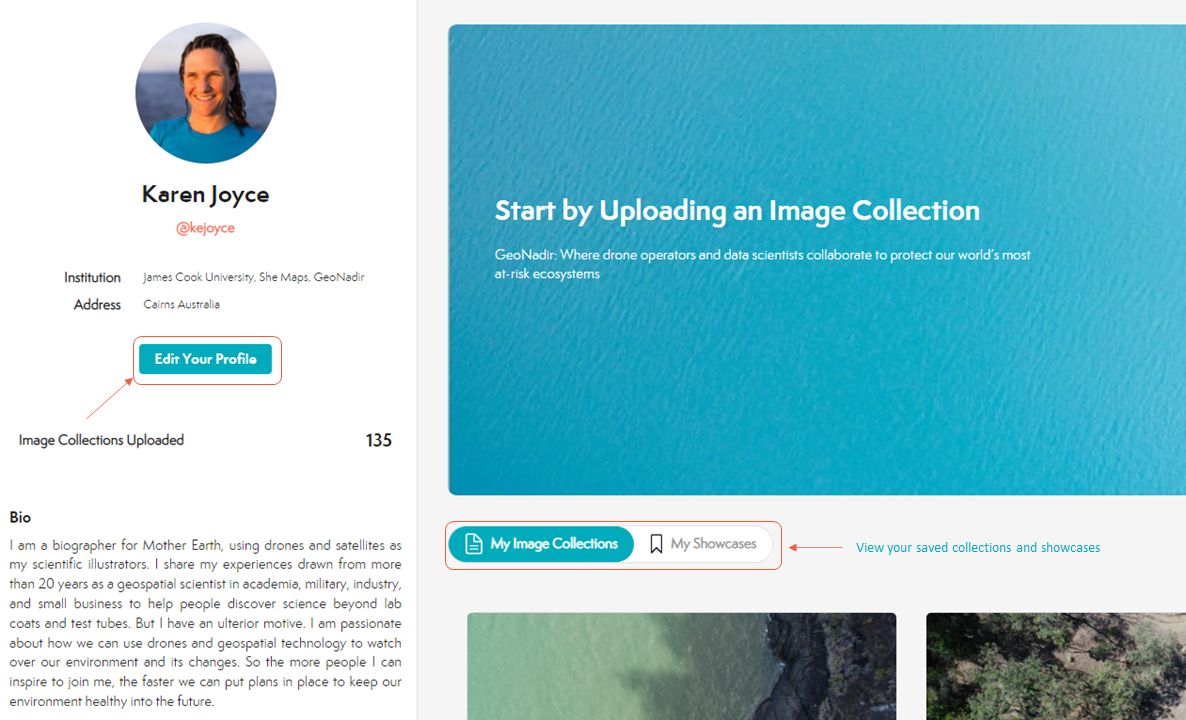 We hope you'll agree that our drone data platform is coming along really well and starting to show lots of exciting features. We'd really love to help you manage and share your data, and to explore the collections of others all with the view to helping each other monitor and protect at-risk ecosystems.
To jump right into the GeoNadir platform and upload or explore data, click here.